At present, more than 2000 young people die accidentally every day in the world, more than 200000 happy families are broken every year, and millions of relatives are in agony. In order to prevent accidental injuries to young people and children, do not let the last line of defense to protect the safety of family members be in vain - Jiasong Technology, in action!!
Jiasong Science and Technology makes an intelligent cat's eye based on the attitude of only creating, not copying, surviving on quality and service.
The company has a strong R&D team, with 25 senior software engineers and 5 hardware engineers, all of whom have more than 10 years of experience in wireless audio and video transmission. Since 2012, the founder has led a dozen engineers who have worked in the 2.4G wireless field for more than 10 years to establish Jiasong Technology, and participated in the design of chip software and hardware applications with domestic and foreign 2.4G chip manufacturers
Perfect sales and after-sales team, based in South China, radiating across the country and extending overseas
All this is condensed on a small cat's eye doorbell!
Jiasong Technology HD low-power wireless visual intercom cat's eye doorbell
1. Ultra low power consumption, extra long standby time, 8 months of standby time
2. 914MHz wireless penetration, greater distance, duplex intercom without delay
3. Start doorbell through APP, remote unlocking, remote video recording, taking photos, real-time Reverse monitoring.
4. The gateway has a built-in ding dong bell, which supports TF card to store information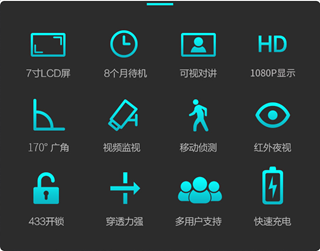 Jiasong Technology provides you and your family with personal security. It is a conscientious product that allows every customer to use at ease and truly guarantees family safety!